1] Exam Name: State Services Examination. ( Rajyaseva Exam)
2] INTRODUCTION OF EXAM:
As we know, this is one of the popular exam in the Maharashtra. MPSC conducts this exam to select best of the candidates amongst thousands of candidates. I think you know Deputy Collector, ACP/DSP, BDO and Tahsildar etc. These Types of posts (Officers) you will get through this exam. Officers selected from this exam are all gazetted officers from group A and group B Services from various departments.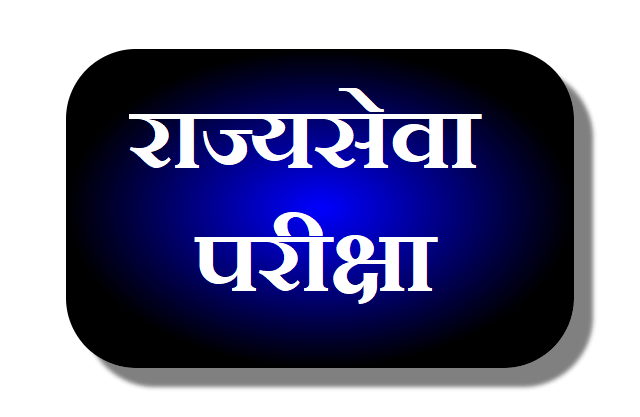 3] Medium of Exam:
English and Marathi.
Note: Questions from English language will be in English only and questions from Marathi language will be in Marathi only.
4] LIST OF POSTS AND DETAILS:
We know that there are lots of posts in the MPSC exam but how many? Basically there are 24 posts starting from Deputy Collector to nayab Tahsildar. In this exam all posts are not same they are class A and Class B Posts. But, all posts are not for all graduates, means there are about 6 posts requires specialization in that subject or you have to be passed with that specific degree to get these 6 posts.
Click here to see a complete list of 24 posts:
List of posts for which officers are selected through MPSC Exam
Currently, I can't explain all information about each and every job post but in future, I will explain. So just for your knowledge see the above link to know all posts under MPSC Rajyaseva Exam (State Service Exam).
To know the Salary of all 24 Posts Read this:
MPSC Rajyaseva Posts and salary
5] Eligibility for MPSC Rajyaseva Exam:
Indian citizenship: You must be a citizen of India.
Age Limit:
Minimum 19 years old and must not be greater than 38 years.
The upper age limit will be relaxed:
In the case of Backward Class candidates- up to 5 years.(43 Years)
In the case of proficient players, till 45 years of age
In the case of Ex-serviceman, according to rule( Open category 43 Years, backward category 47 years old)
In the case of disabled candidates, up to 45 years of age
Educational Qualification:
Degree of recognised university OR Equivalent qualification prescribed by the Government of Maharashtra.
But for some posts the educational qualification is a little bit different, take a look at the next image.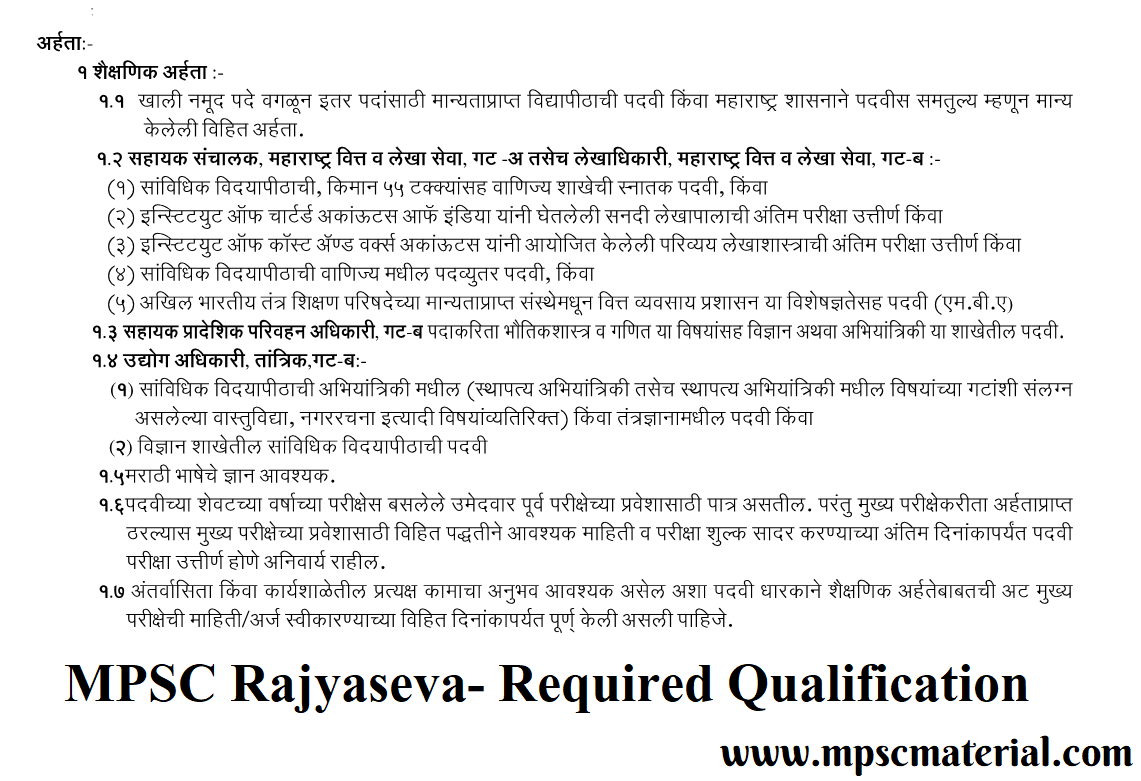 Last Year's aspirant is also eligible to take the Preliminary examination but
If internship or workshop experience is required to complete the degree then that should be completed before the last date of online application for the MPSC Rajyaseva Main examination.
The degree holder must have completed the work of internship or workshops with the actual work experience required to complete the degree. This condition must be completed by the prescribed date of acceptance of the main Exam information.
Physical Standards: There are some posts for which you must be physically fit, which means there are minimum physical requirements. And one more thing is that persons with disabilities are also not eligible for such types of posts. Persons with disabilities are eligible for other posts including Deputy Collector.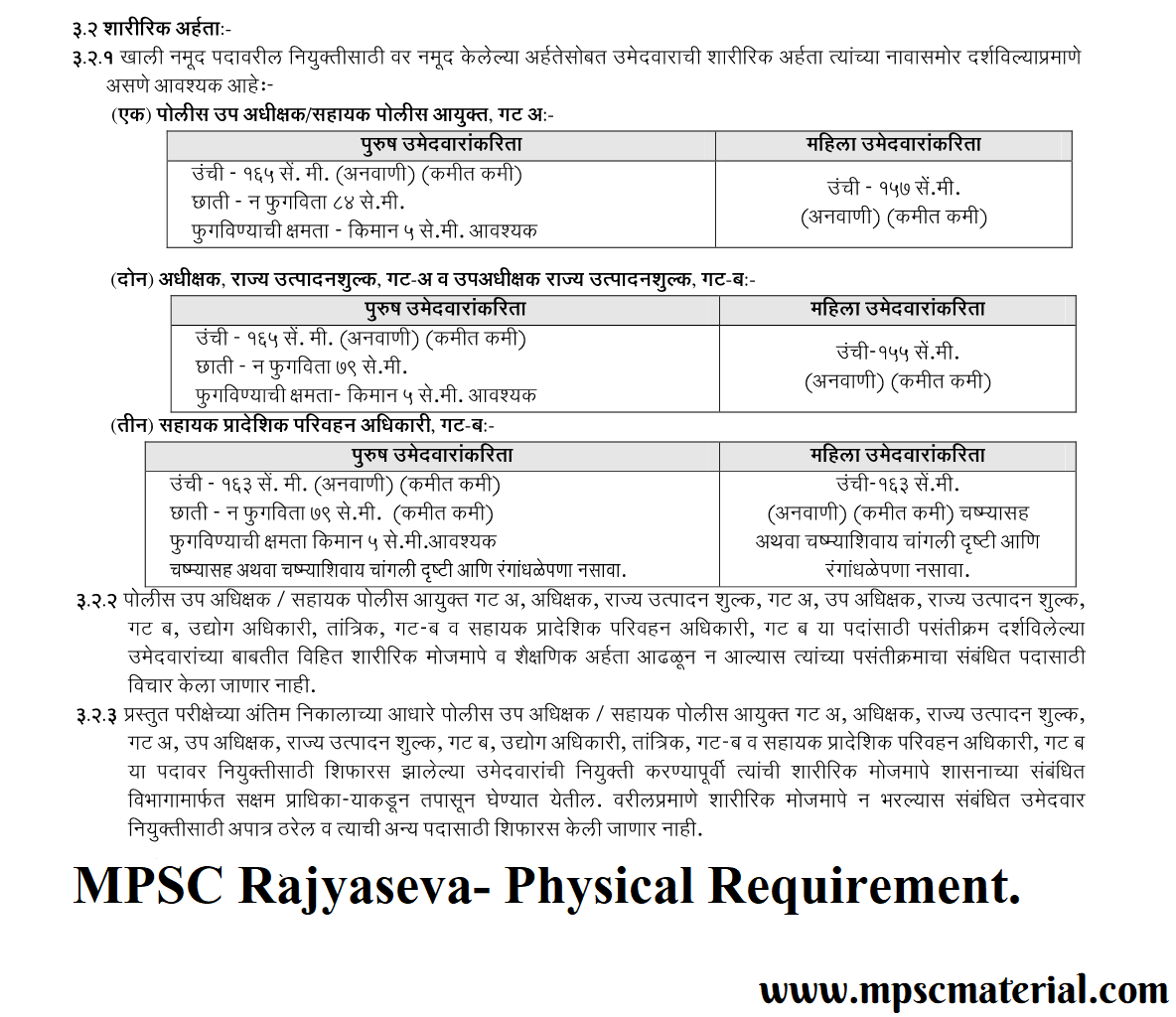 Numbers of Attempts:
an unlimited number of attempts for the MPSC exam but within age limit timely given by the Government
Others: No other Qualification is required.
Are you eligible?
6] Phases of Exam:
Phase 1: Preliminary Exam (100 Marks)
Phase 2: Main Exam (800 Marks)
Phase 3: Interview (100 Marks)
7] How to apply for MPSC Rajyaseva Exam?
Application processes is fully online whereas you can pay fees of exam offline. So, How to apply for MPSC Rajyaseva Exam is not different from other exams, the processes is same for all exams.
Notification: Notification means the advertisement for MPSC Rajyaseva Exam, Without Notification you won't be able to apply for MPSC Exam, in MPSC Advertisement there will be last date of Application and number of vacancies for MPSC Rajyaseva Post. You have to apply for MPSC Rajyaseva before last date of Online Application.
Create Account: If you haven't created Account in MPSC Online Website then you can create it. Do not create your account if you are in 12th Standard or Second Year of Graduation etc
Fill the Information: In Account Creation you have to fill lots of information, you will find all steps of How to create account in our website with all information for freshers.
Upload photo and Signature: after filling all details you have to upload one photo and one signature in the form of image with required dimensions.
Apply For Exam:
If you have account in MPSC Online Website then you can directly apply for MPSC Rajyaseva Exam in two minutes.
See how to apply for any MPSC Exam: how to apply for any MPSC Exam
So after application you have to pay the exam fee for MPSC Rajyaseva Exam, Otherwise you will not be considered as candidate for Exam.
Fee Payment:
Fees Payment Methods: Online and Offline (State Bank of India)
Fee payment is simple you can pay your MPSC Rajyaseva Exam fee online or offline (State Bank of India). In offline mode you have to generate challan and pay it in State bank of India. I will write one post that How to Pay Exam Fee through Challan. You will find it in MPSC Online Menu or in MPSC Online Category.
Exam Fee:
Prelim:
Open Category: 523Rs
Backward Category: 323Rs
Mains:
Open Category: 524Rs
Backward Category: 324Rs
After successful payment you have to select the center to take MPSC Rajyaseva Exam
Select exam center:
Prelim Centers: Every District City of Maharashtra will be center of MPSC Rajyaseva Prelim Examination.
Mains Centers: Mumbai, Pune, Aurangabad,Nagpur.
Interview Centers: Mumbai, Pune, Aurangabad, Nagpur.
Download hall ticket: You will get your exam hall ticket before 7 days of exam or 15 days before the exam.
8] Nature of Exam:
There is only one paper which is descriptive in nature means you have to write something in the paper sheet. And other 5 papers are Offline-MCQ Based Questions Papers
9] What is pattern of MPSC Rajyaseva exam?
The pattern is simple, as we discussed above in the phases of exams,
PRELIM: There will be Preliminary examination consisting of two compulsory papers with 200 marks each.
Note: The aim of the Preliminary Examination is to Shortlist the number of candidates for main examination. Therefore in all 16 times candidates of total number of posts will be allowed to the main examination as per the merit list of the preliminary examination. As preliminary examination is being screening test, its marks will not be taken into consideration for final selection and will not be communicated to the candidates.
MAINS: After Prelim result there would be mains exam for selected candidates from preliminary examination. There will be mains examination consisting of six compulsory papers in which 2 papers of 100 marks each and 4 papers of 150 mark each.
INTERVIEW: After mains Result there would be interview of selected candidates from mains exam. Interview will be in Mumbai, Pune, Aurangabad and Nagpur.
10] What is Syllabus OF MPSC Rajyaseva exam?
MPSC Rajyaseva Syllabus [Prelim &Mains]: Read it.
11] 12] 13] Points are coming soon…
14] How to Prepare For MPSC Rajyaseva Exam?
You have to start preparing for this exam before the one year it will make you comfortable to study and to manage time. There are hundreds of strategies to prepare for this exam and you can select one amongst all of them or you can make your own strategy to prepare for this exam but there are few things you must follows to prepare such types of exam and of course we will share one strategy for you but we will not take guarantee. Because most of the success is in your hand not in the coaching institutes or the study material of others with titled "100% guarantee".
So, here is Preparation Strategy
Start with basics
If you are studying in 12th or 10th then it's better to concentrate more on your study but if you are in graduation level like in first year of graduation or second year of graduation and if you are studying in arts branch then its good time for basic preparation.
So, what is the basic preparation you can do for this exam is that you can read the basics books of Maharashtra state board, NCERT Books etc. these are the basic books you can read in basic preparation. And one more thing you have to do is that you can read the previous year's questions papers of this exam to understand what type of questions I will get in this exam. And one more suggestion do not read questions papers from the past years like 2010, 2011… 2017. Read the questions papers from the recent exam like 2017, 2016…2010.
So, this was about the basic preparation for MPSC Exam you have to do, but the only difference between you and others is that currently where are you? Means what are you doing right now? Whether you are in first year of graduation or in 10th or 12th standard or at the last year of graduation of degree or you are managing this preparation with your job. So, depending on your profile you can take time to read the basics books. If you are in exam process that means you are preparing for this exam more than one time then you can skip this type of preparation or you can read the books at your higher speed to save your time.
Preparation with Standard Books
This type of preparation is needed to pass this type of exam or any competitive exam in the Maharashtra or India. See, you can directly start with this step without basic preparation. As we know that the all students are not equals. If you are topper in your district in 10th or 12th and you have studied very well in school life then you may feel boar while reading the same content of 10th , 12th and 9th , 8th 7th , 6th ,5th etc. and one more thing is that if you are reading State Board Books or others book then read it like 5th, 6th, 7th…. 12th etc do not read 12th first and then 11th , 10th. if you don't have time to read basics books then you can skip 5th, 6th , 7th standard books.
And where you will know that my basic knowledge is good that you can test the previous year's questions papers specifically before 2013. You can read the simple papers to test your basic knowledge about a particular subject or as a whole.
Now you may feel that which are the standard books we can use to prepare for this exam, then the answer would be there is a list of books which you can refer to prepare for this exam. For some subjects, there are multiple books from which you can select one of them.
Now one more thing you must know for this exam is that this exam consists of three stages i.e. preliminary exam, mains exam, and interview. So to prepare for this exam your preparation should be an amalgamation of prelim and mains. one more thing in the prelim is that in prelim there is a paper called CSAT which is Paper 2 of the prelim exam. people think that this paper is scoring for engineers, science graduates etc
CSAT Paper consists of various topics, so if you are not good in maths then you can prepare well for comprehension, analytical ability, etc
in future we will take a look at each and every topic with examples, keep in touch with us.
thanks for reading… Have a good day/night.
share it with your friends.