Welcome to MPSC Material. Today you will learn how to apply for the any MPSC Examination through Online Application System.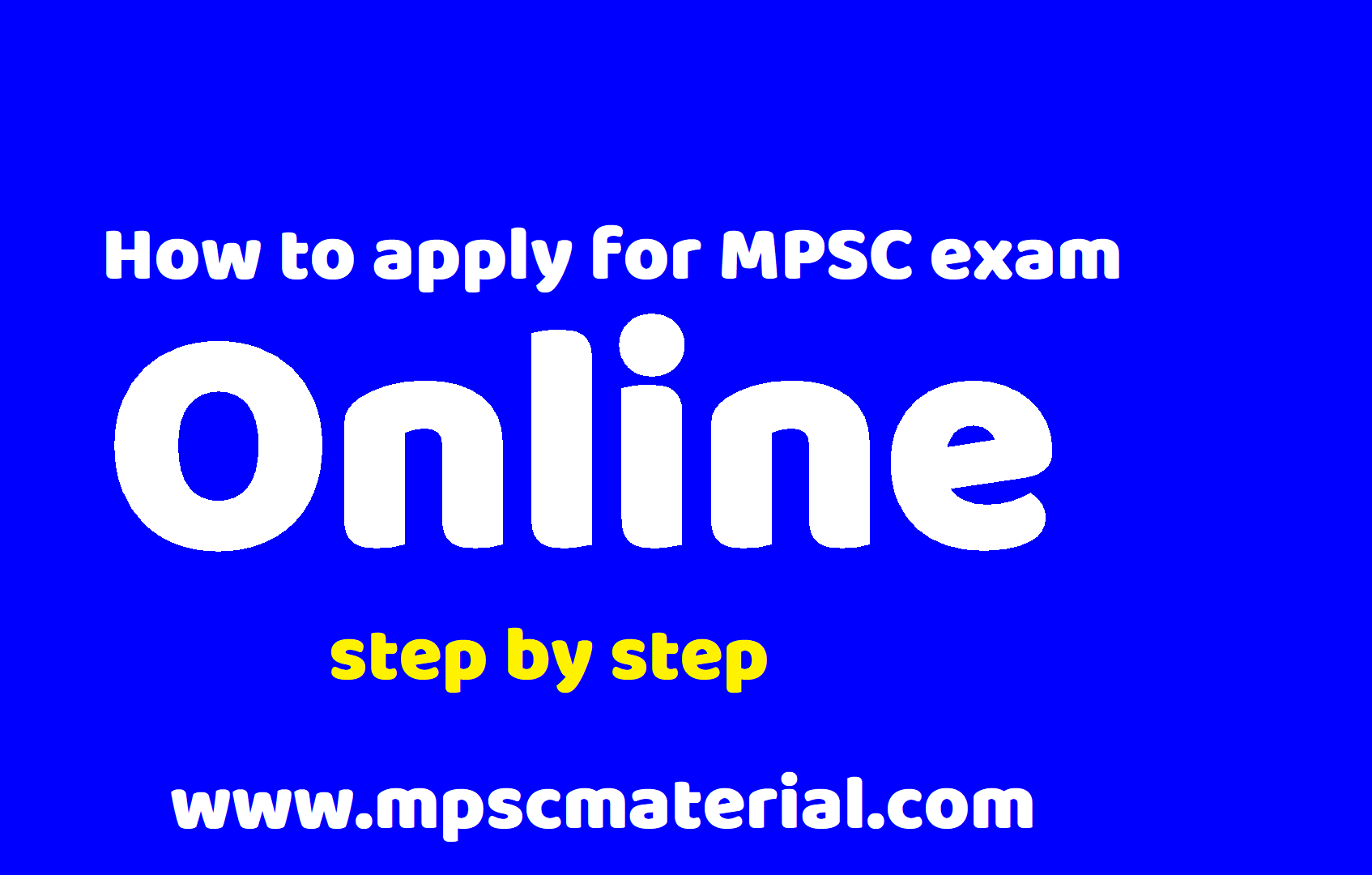 Before applying for this examination you must have your account in the MPSC Online Application System and Application Status should be complete. And make sure you are eligible to appear for this exam and you are fulfilling all the eligibility criteria to appear for this exam. Basically the graduation is needed to appear for any MPSC exam but for some exam there is requirements of other qualification like typing, experience etc. so how you will know that you are eligible or not eligible for this exam. So, all the information you will get from the notification of that particular exam so, before applying for this exam go through exam notification once and then you are free to apply for any MPSC exam.
So, you are eligible to appear for MPSC exam? If yes then why are you waiting to apply?
To apply for any MPSC exam you must be logged in into the MPSC Online Application System.
So, here is the Application Submission Process
There are FOUR stages of application submission.
Profile Creation/Updation
Application Submission
Fees Payment
Centre Selection (only in case of Competitive Examinations)
So, we will learn each and every topic completely and please do read all the details carefully before applying for the MPSC exam if you are the new candidate in the MPSC exam.
Profile creation/ Profile Updation
Profile Creation Means Creating New account in The MPSC Online Application system and Profile Updation Means Your Profile must be updateted with correct information this is incorrect. Profile Updation Means the details that changes year by year that details should be updated for e.g. If you have created your account in 2017 and in 2020 you want to appear for this exam and now what happened is that your yearly income has changed and your look also and you lost the sim card of that number which is still present in your MPSC account to communicate with you… this is too much. I want to tell you that please update your current details in your account mainly your photo, height, weight etc.
If you failed to update this type of information you may face difficulties in the exam hall while appearing for this exam.
Application Submission
Actually the Application Process starts from this step. So to apply for exam after logged in go to the Online Application and there will be your exam name with application first date and application last date. So if you found that the status is closed then the date of application is ended. If you found the link Click Here To Apply Then You are ready to apply for this exam after clicking that link they will ask to confirm all the details of the application. So before clicking on the Confirm submission please go through your details once.
So after Final Submission you have applied for the exam but your application process is not completed because who will pay your examination fees? So, the Next Step is to pay the examination fees.
Fees payment
This is one of the important steps and make sure you know all the conditions of fees payment for the exam. There are different ways of fees payment. You can pay your fees in Online or Offline Ways And one of the simple way to fees payment is Net Banking/ Credit Cards/Debit Cards etc but we all are not same and we are not economically equals and we do not have same facilities everywhere across countrywide.
If you do not have above facilities you can pay your fees trough offline mode through Challan but after creating challan wait for atleat 24 hrs to pay it in the State bank of India. This is not actual process, The Process Starts Now….
To pay the Exam Fee after logged in go to the My Account. In my account see the left side you will see the menus. In menus there will be two menus mainly My Profile and Second Will Be My Application so under the My Application You will see different types of exams from that exam select your exam types which you have applied for it. So for e.g. we want to apply for Competitive Exams then we will click on that Competitive examinations Links after that you will see the next menus instead of your profile details. There will be two dropdown menus in front of you will multiples of buttons
So, From " Please Select Year" simply select current year from that dropdown menu. And From "Select Post Name" Select the Exam name that you have applied for it.
After selecting above details you will see your application details. If you failed to select correct details you will see the "No Record Found"
Hope You have selected Correct details from that Dropdown list. Below you will see your application details and now you will see your Application Details.
And here you will notice that the Status of Fee is Unpaid Click on that pay Now Button You will see the Different options to pay your examination fees. Depending on your preference select correct option to pay the exam fees.
Centre Selection
After Fees payment you are now free to select your exam center so in this window itself you will see fees status paid in the first line of buttons you will find select center button so to select center before that first check the checkbox of your exam and then click on the select center here you will find list of centers. Select one and then confirm it after confirmation you can't change it.
So, this is Full Process of applying for any MPSC Exam, This may not be exhaustive but its complete for new users who do not have lots of information about MPSC Exams.
I hope now you will get meaningful information about MPSC Online Application System.
Thanks for reading this full article and please do share our content with your Facebook Friends, WhatsApp friends, and anywhere in social media.