How to Select Exam Center for MPSC Exam
Today in this post we will see how to select exam center for MPSC exam?
Let's get started,
So this is the last step of online application process of MPSC exam means after applying for any MPSC Competitive exam you have to pay exam fee after that to appear for examination you have to select the examination centre where you will take exam.
So in this post we are going to see step by step how to select exam center to appear for mpsc examination.
Log in into your MPSC Account.
Now click on My Account
In My Account you have to select Competitive examination.
Now in Competitive examination you have to select the year.
After Selecting Year you have to select the name of post from next dropdown list.
After selecting post you have to check the checkbox of that post.
Now to select center click on that select center button from the above buttons.
Now you will see one dropdown list from that list you have to select your exam center whatever you want.
After selecting center click on submit button.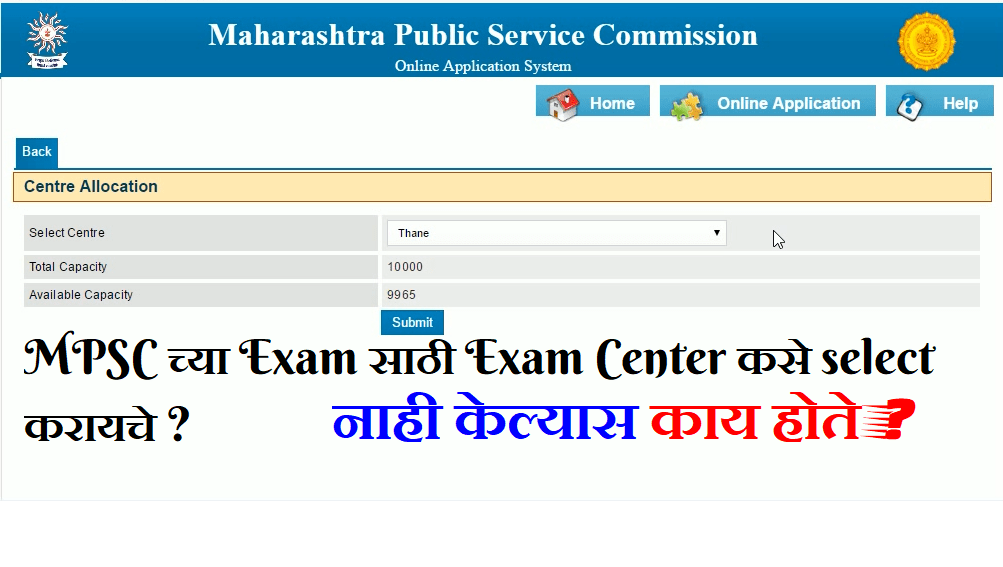 After that wait for exam hall ticket. The exam hall ticket will be published before 15 days of exam after that you can download it.
Note:
After Selecting Center you cannot change it.
Be careful while selecting exam center.
You can select exam center only after paying exam fee.
To Select year you have to select the year of date of notification.
What will happen if you haven't selected examination center?
If you have not selected examination center only for competitive examination then you will get your near examination center if the seat are available means what ? if you are from thane and want to appear for this exam in Mumbai but you haven't applied for any center then its most likely that you will get thane itself as your exam center if seats are available. If seat are not available in thane then you may get Mumbai and if in Mumbai too there are not seats available then you may get raigad or palghar. Most of the time you will get your home district or they will see your address and then they will give you nearest exam center.
So this is article about exam center. If you found this helpful Do share with your friends
Thank you for reading!!