Update : they have decided to take exam for these posts through mahapariksha portal. and students are facing lots of problems in mahapariksha with regarding management, authenticity, results, support, mass copy, seating arrangements and lot..
We have a new good news about adding some new posts in the state services examination. This is not about adding more posts means they are new posts in the state services examination Itself and this is not confirm yet and they are gazetted posts. I think if they are gazetted posts then the recruitment of all these posts will be taken by Maharashtra Public Services Commission trough MPSC Rajyaseva Exam Itself.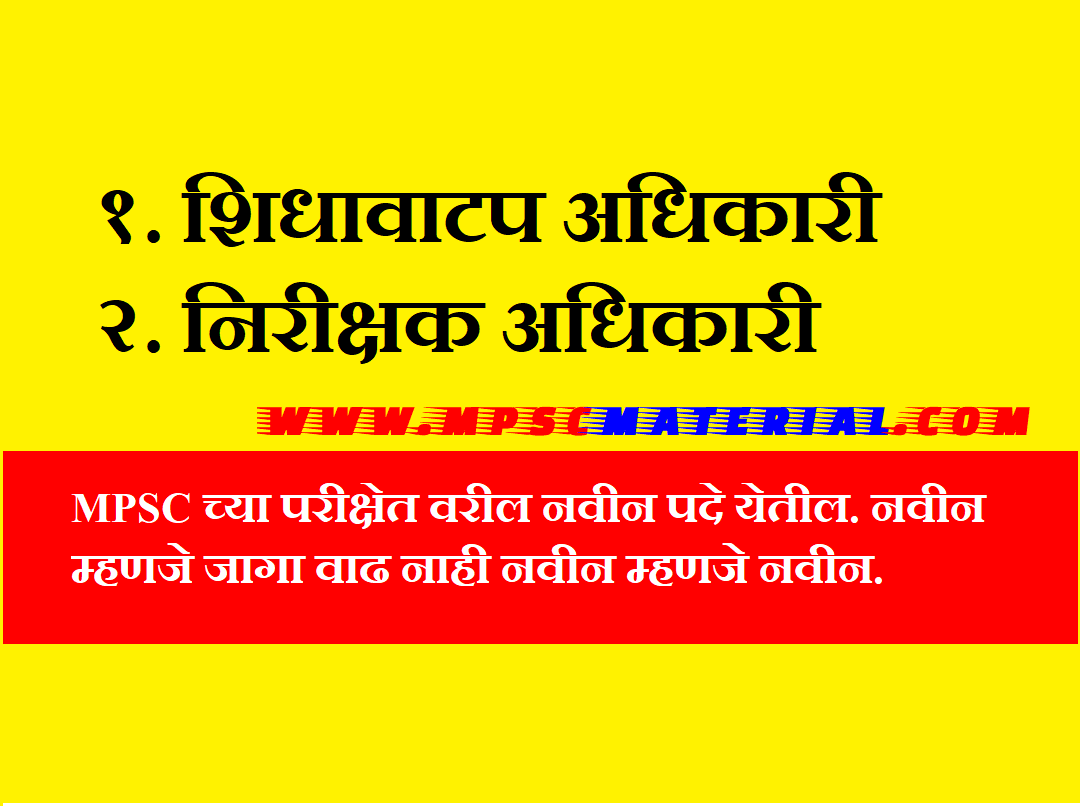 This news is from Food, Civil Supplies and Consumer Protection Department. In this news they have told that they will add 2 posts  in the gazetted posts and we know that we have state Service examination to recruit the gazetted post so these two types of post will be recruited by Maharashtra Public Service Commission under the state Service examination.
If you want to read more about this posts then all detail is available in the PDF but read this first and that PDF will be available below this post so from there you can download it and read it and don't forget to share it here we will discuss about our exam point of view.
they have not mention anything else about all these two types of posts. By reading that PDF you will only get to know about that posts will be comes under Maharashtra Public Service Commission but they have not clearly mentioned that they will be recruited from the state Service examination but my thing is that they will be recruited by the State Service Examination because they are gazetted posts. Other all details are given in the PDF itself. The work details and the salary details will be same as a class B officer in the Government of Maharashtra. They may add these two types of posts in this year also or they may add these two types of post in the next year notification. and we know that the preliminary examination notification has been published by the Maharashtra Public Service Commission and there is a no mention of these type of posts even though the notification has been published by Maharashtra Public Service Commission on 29th December but this news is Published by food, civil supply and consumer protection department on 28 December 2017.
Tell me in comment box that what will happen about these posts they may add these two types of posts in the mains notification of state services examination like recently in a 2017 they have added Three Types of posts in this state service examination in the mains notification so this is all about two types of posts. This is a news from the Government of Maharashtra and Maharashtra public Service Commission has not published any news about these two types of posts .
I am sure that there will be no new syllabus no new examination or no new pattern. Thank you.
Below you will find some basic information about that two types of Posts and their class and their details about salary.
Posts Name:
Rationing Officers :
Inspecting Officers:
These are two types of posts and both are class 2 gazetted posts and salary of rationing officer and inspecting officer is same as below:
9300-34800 + 4300 Grade Pay.
Job location of the rationing officer will be in the Mumbai and inspecting Officer job location will be all over Maharashtra but I am not sure about this all types of information this type of information is not given in that news.
The information given in the PDF is a little bit more from this information but if you got this news then this is also ok you will not get that much of information from the given PDF
Thank you and share with your friends.
Direct खाली आले का वाचायला? नाही ना …! जे PDF मध्ये नाही त्याबद्दल माहिती दिलेली आहे ती पहिले वाचा आणि नंतर ही PDF बघा.
Click on Download Link or on below link to download PDF : Download
Gazetted status to Rationing Officers in Controller Rationing Mumbai and Inspecting Officers of Civil Supply.