Hello Everyone Welcome to MPSC Material in this post we will discuss about mpsc seats available at each center of mpsc exam and then we will discuss about number of candidates who appear for MPSC Exam.
First Checkout the capacity of seats at each center all over Maharashtra and extremely sorry for Nashik and Nandurbar because I forgot to check the capacity of seats. And if you know then comment it below the post or message me on any social media platform I will update it.
Checkout the Seat Capacity for MPSC exam all over the Maharashtra.
Note: I did this in night to check correct data about centers so my advice for you is do not try to hang website means if the lots of people are filling their form of various exams on MPSC Online website and you will do such thing on website for long time then website may not respond if the lots of people are doing lots of things on same time because the website server cannot handle lots of request at same time and we know that MPSC Online Website is sub domain and we don't have knowledge about their servers and such types of websites are custom website because they create their website by coding in Microsoft visual studio.
Ahmednagar 14000

Akola 12000

Alibag 6000

Amaravati 8200

Aurangabad 16000

Beed 4000

Bhandara 4000

Buldhana 5000

Chandrapur 6000

Dhule 6500

Gadchiroli 3000

Godia 3000

Hingoli 2000

Jalgaon 9000

Jalana 3200

Kolhapur 14500

Kudal 1500

Latur 10000

Mumbai (Central) 15000

Mumbai (Western) 6000

Nagpur 13000

Nanded 12000

Nandurbar 4000

Navi Mumbai 5500

Nashik

Nandurbar

Osmanabad 4000

Palghar 5500

Parbhani 5500

Pune 45000

Ratnagiri 1800

Sangli 11000

Satara 10000

Solapur 9000

Thane 10000

Wardha 6500

Washim 6500

Yeotmal 10000
So, These are the centers of MPSC Exam and the data is latest for MPSC Rajyaseva Exam 2018. and data may change in future.
So i can't tell you correct data because i don't have the data of two exam centers. So the capacity of seats for MPSC Exam is above 300000 but it's not more than even 350000, So You might have seen the meme "माणसाने एक वेळ लोकसभेची तयारी करावी, पण MPSC ची नाही . 69 जागा आणि ७ लाख उमेदवार"
So this meme might be wrong because if the seating capacity is not more than 3.5 then how they will manage the 700000 candidates. So these all are misleading content and that can create misconception about MPSC exams in other site we have less seats for this year.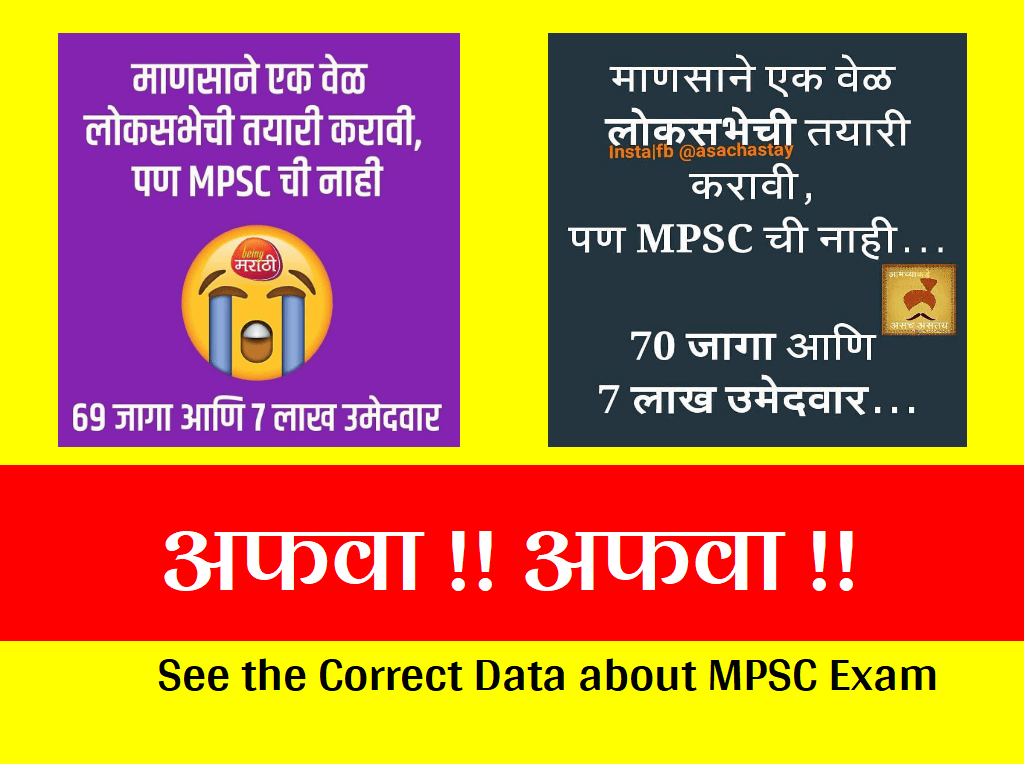 So main focus of this article is to tell you the correct information about seats availability at each center and then i found the above misleading information about MPSC Exam (Specially Related to Rajyaseva exam because of 69 posts). So this also one of the responsibility to tell you correct information about MPSC Exam and this is not such information that you can't analyze. If you have account in MPSC Website then also you can check it after paying 500 Rs exam fee.   
Share it with your friends. ! and thanks for reading.
Date: 8/1/2018