Hello Everyone! Welcome to MPSC material Website. Today we will see why MS-CIT certificate is important in MPSC Exams? is MS-CIT compulsory for government jobs ? MS-CIT or CCC which one better ?
Lets get Started,
We have various examinations in MPSC. In Some exam there is requirement of Computer knowledge. So in our Maharashtra we have course MS-CIT (Maharashtra State Certificate In Information Technology). MS-CIT Is the basic course of computer where we learn concepts of computers and Word, Excel, PowerPoint, mail etc (Theory and Practical). Now I don't know the perfect pattern of exam but will be same. So, you must have completed it in your 10th vacation. MS-CIT certificate is also required in Other Government examinations too. Like Talathi Bharti.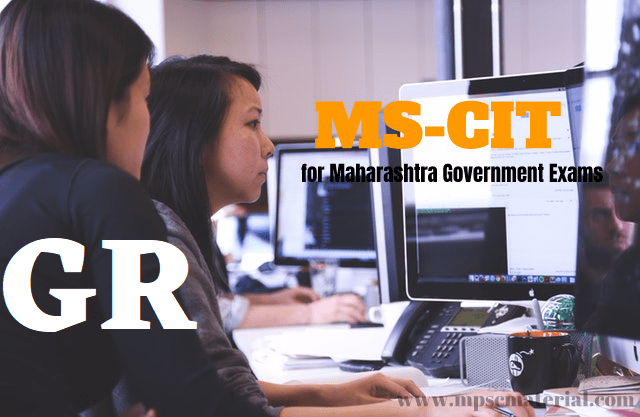 Now you know MS-CIT is important for exams and in fact it is important in our daily life too. if you are doing something in it like now I am writing this post in Microsoft Word then I will update it in our website.
is MS-CIT compulsory for government jobs ?
First of all lots of people they don't know what is full form of GR. the full form of GR in Government is General Resolution (ठराव).
For this you have to read gr regarding computer qualification examination (Maharashtra Government)
GR Download : Download
Read GR Details :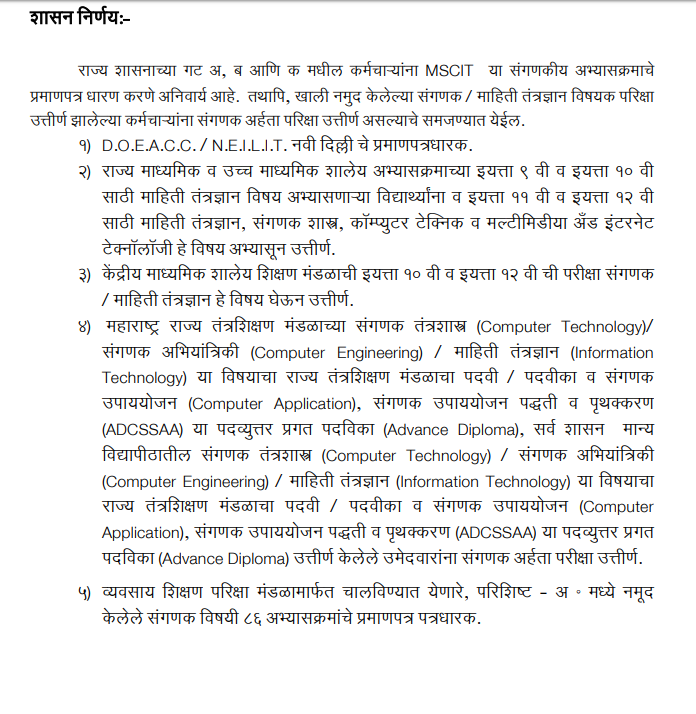 After reading above gr regarding computer qualification examination one will know that it is compulsory for government jobs but if haven't completed MS-CIT or CCC then also you can complete it after joining the job.
Please Note this : " the newly recruited Officers / Employees should comply with the eligibility criteria of knowledge of Computer operation / application within two years from the date of appointment or else their services will get terminated "
After reading this gr of Maharashtra government regarding computer qualification examination you have to take note of it and one one thing i have not taken lots of efforts to find any new resolution on this gr regarding computer qualification examination. if you have latest news about this then feel free to comment i will update is within day.
lets move ahead.
Some of the students asks MS-CIT or CCC which one better?
MS-CIT or CCC which one better ?
I think course on computer concepts (CCC) is recognized as central course where as MS-CIT is course of Maharashtra itself, so if you have MS-CIT for Maharashtra Jobs then OK or if you get center job then complete it after joining if there is requirement of CCC instead of MS-CIT.
What I read different about CCC is creating databases. We know that we have application in Microsoft office called "Microsoft Access" where you can create databases. We have lots of things in Windows like we can connect our database in Microsoft excel. You can set up ODBC. You can create databases in SQL Server and then you can connect it in Excel. If you love computer you will find lots of things in computer itself.