Welcome to MPSC Material and here is the MPSC Rajyaseva
Posts list with newly added posts. Before that you must know that there are newly added MPSC Rajyaseva Posts in
2017 as well as in 2018. So, currently there are 27 types of posts.. read complete article you will get everything you want regarding MPSC Rajyaseva Posts…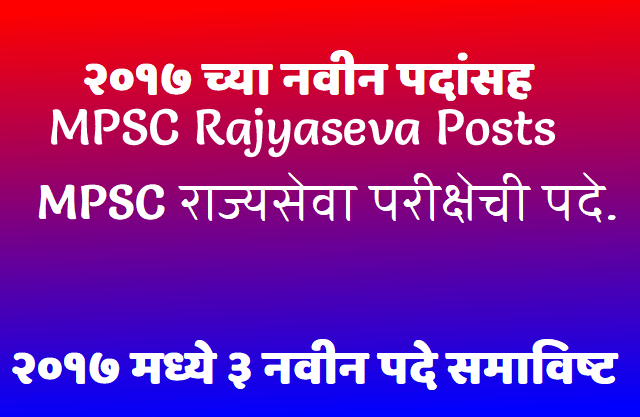 MPSC Rajyaseva Posts
MPSC Rajyaseva Class 1 and class 2 Officers Posts
Deputy Collector, Group A – DCA
Deputy Superintendent Of Police /Assistant Commissioner Of Police, Group A – ACP
Assistant Commissioner Of Sales Tax, Group A – ASC
Registrar, Co-Op. Societies, Group B
Deputy Chief Executive Officer / Block Development Officer, Group A – DCE
Assistant Director, Maharashtra Finance And Account Service, Group A – MFA
Chief Officer, Municipal Corporation Municipal Parishad, Group A – COA
Superintendent Of State Excise, Group A – SSE
Education Officer, Maharashtra Education Service, (Administration Branch) Group A – EOB
Tahsildar, Group A – TAH
Deputy Education Officer, Maharashtra Education Service, (Administration Branch) Group B – DEB
Assistant Regional Transport Officer, Group B – ART
Accounting Officer, Maharashtra Finance And Account Service, Group B
Section Officer, Group B – SOB
Assistant Block Development Officer, Group B – BDO
Chief Officer, Municipal Corporation / Municipal Parishad, Group B
Assistant Registrar, Co-Op. Societies, Group B – ARB
Deputy Superintendent, Land Records, Group B – DSL
Deputy Superintendent, State Excise, Group B – DSE
Assistant Commissioner, State Excise, Group B – ASE
Naib Tahsildar, Group B – NTB
MPSC Rajyaseva Exam Posts Added in 2017
Assistant Director, Skill Development, Employment And Entrepreneurship, Group A

Skill Development, Employment And Entrepreneurship Guiding Officer, Group B

Industry Officer, Technical, Group B
MPSC Rajyaseva Exam Posts Added in 2018
Deputy Director/ Project Officers( I.T.D.P)(Grade – A)/Deputy Commissioner Group – A

Deputy Director/ Project Officers( I.T.D.P)(Grade – B)/Assistant Commissioner Group – A

Assistant Project Officer/Statistics Officer/Administrative Officer/Research Officer/Head/ Manager Group-B
Finally there are total 27 posts in MPSC Rajyaseva Exam but
the bad thing is that you will not find all the posts in the examination each
year. So if you think that next year I will grab this post then you can grab
the posts which are common in every notification means there are some posts you
will find it in every year so, thanks for reading and forward it to your
friends to gain knowledge.
Don't forget to like our Facebook page.
click here