MPSC Hall Ticket 2019
Welcome to MPSC Material. Today you will learn how to download MPSC Hall Ticket (Admit Card) of MPSC RAJYASEVA Prelim Exam 2019 from MPSC Online Website. We know that if you apply for any central government jobs then you will required to enter lots of details to download the admit card. Like to download Admit card of central governments job you have to enter the date of birth, registration number, etc. and sometimes if you exceed the number of downloads then you can't download it.
So, MPSC is completely different than the any other commissions, because it's unique in nature and easy to access if you have little bit of computer knowledge. Sometimes the new aspirants don't know how to download MPSC Exam hall ticket. So here you will learn how to download MPSC hall ticket from Official MPSC Website.
Let's get started
You can download Your MPSC RAJYASEVA hall ticket from MPSC website in two different ways
1) With User ID and Password
2) With Application ID (without username and password)
Refer Following image if you stuck … !!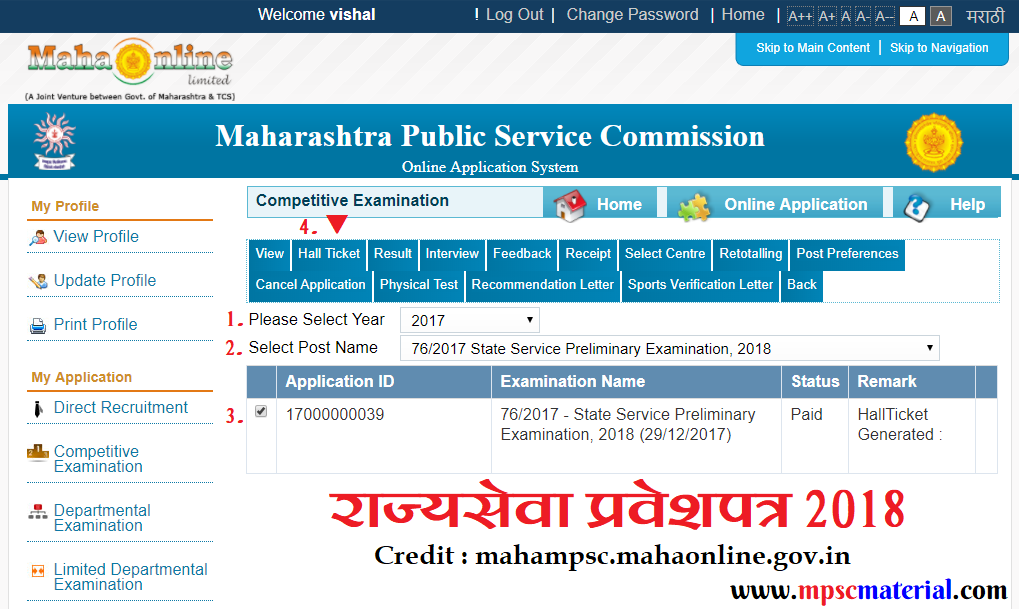 ---
MPSC Hall ticket With UserID & Password
---
To Download MPSC Hall Ticket 2019 with User ID and Password You Must logged in.
Follow these steps carefully to download Your MPSC hall ticket.
after login click on the

My Account

Tab.
Now Under My Application 
Now in My Account under the My Application Click on Competitive Examination. 
Now you will see screen Like This(Above Image) and here you have to do four things.
In Drop down Menu Please Select the Year 2018 because you have to select that year when the application submission process has started.
After Selecting Year you have select the exam called "50/2018 – State Service Preliminary Examination, 2019 (10/12/2018)" From Select Post Name Drop down menus.
After Selecting Exam you will see all your Details Like, Application ID, Examination Name, Status and Remark.
To Download Hall Ticket first you have to check that Check box means you have to select that check box and then in the above click on the hall Ticket Button to Download your hall Ticket.
After Clicking On that button you will see Your Hall Ticket on screen.
Now you can print it. If you have Windows Operating System then Click Ctr+P and Then You can Save It as PDF Document in Your PC.
This was Procedure to Download Hall Ticket through User ID and Password.
Now, I will Tell How to Download Hall Ticket Without User ID And Password In MPSC website.
---
MPSC Hall Ticket With Application ID
---
Download MPSC Hall Ticket without User ID and Password.
Click On The Link On MPSC Website With Title "Click here to Download Hall ticket without entering Username and Password."
Enter Application ID And Enter the text as in the image And Then Click On The Button Show
Now You Will Get Your Hall Ticket and then You can Download It Or Print it.
Now, Many of You will think that What is application ID and How to Find it and where to find.
Actually, Without Login You will not be able to see it but when You apply For Exam You get a receipt behalf of MPSC or You Can Download Challan Where You Will Find This Application Number and This Application Number is unique for each applicant and each examination.
Thanks for Reading. Most Welcome. Now do not Close This Window see below the Video How to Download Hall Ticket With And Without User ID and Password.
video is old… !
If you don't know the website to download MPSC Hall Ticket then here is the website:
Website : https://mahampsc.mahaonline.gov.in