MPSC Result 2019 : https://mpscmaterial.com/mpsc-rajyaseva-exam-2019-result/
Welcome ! So, here will take look of MPSC Mains result 2018 and will make list of all toppers in posts wise as given in the MPSC Result. This year MPSC result of 2018 came just 3 days before the MPSC Prelim 2019.
So, In this exam there were advertisement for only 136 posts and in the final result they have recommended only 129(for one post they have made mistake by showing only 1 recommended candidate so, you may say that they have recommended 128 candidates ) candidates so, 7 posts are still not recommended for any one and if you want to know about those posts then read it you will get it. if i missed the counting or anything else then correct me. i have explained it below the MPSC Result 2018 Toppers List.
DEPUTY COLLECTOR, GROUP-A 
PN003216 BARKUL ASHISH NARHARI (OPEN Topper)

(DOB- 31/08/1989, P1-55, P2-78,P3-91,P4-114,P5-91,P6-90, Interview-59 [Total- 578 Marks/900 Marks])

PN001423 JAMDADE MAHESH DATTATRAYA (Reserved Category Topper)  

(DOB- 15/01/1991, P1-54, P2-72,P3-96,P4-108,P5-88,P6-93, Interview-60 [Total- 571 Marks/900 Marks])

AU001108 SHINDE SUMIT SUBHASHRAO

PN001383 Omase Popat Krishna

PN004247 Mule Sakharam Prakash

PN004040 KASAR JANARDAN AMBADAS

AU001155 LAHOTI SHAILESH SHRINIVASJI

PN004387 SHIRSATH VISHWAS PUNDLIK

PN001420 Pawar Ganesh Laxman

PN001042 JAGTAP DAYANAND PRAKASH

PN001035 Deshmukh Omkar Balasaheb

PN004187 DABHADE SWATI KISAN (Female Topper) 

(DOB- 08/02/1990, P1-65, P2-71,P3-86,P4-91,P5-79,P6-91, Interview-63 [Total- 537 Marks/900 Marks])

MB001002 PRIYANKA SHANTARAM PATIL

PN002415 DANGE SUPRIYA MAROTI

PN002237 KORE TEJASHREE BALASAHEB

PN003076 NIKALJE DARSHAN JAGDISH

PN002303 Akash Amrit Awatare

AU001171 SURYAWANSHI VIJAYKUMAR G

PN002340 TIKHE MADHURI VITTHAL

PN004286 GAIKWAD POOJA TANAJI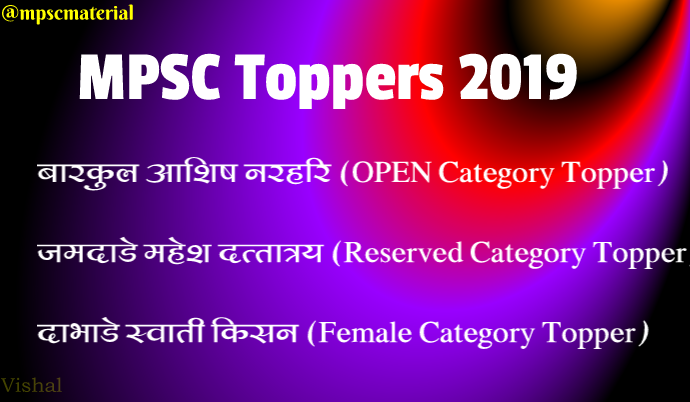 DEPUTY SUPERINTENDENT OF POLICE/ASSISTANT COMMISSIONER OF POLICE, GROUP-A
PN004263 BHUJBAL MAYUR SIDRAM

PN004272 DEVALEKAR SANKET NATHURAM
ASSISTANT COMMISSIONER OF STATE TAX, GROUP-A 
PN004047 NAVHAL ANAND OMPRAKASH

PN001198 KADAM CHAITANYA VASANTRAO

PN004239 Maheshkumar Subhashrao Ghare

AU001172 BABLE RAJIV UTTAMRAO

PN004118 Duke Pramod Laxman

PN003015 PAWAR KISHOR KASHINATH

PN004117 Patil Ganesh Prakash

PN001469 PRIYESH MAHAJAN

AU001201 Dongapure Pooja Prabhakar

PN004273 Ghawate Shital Mahadev

PN001488 RATHOD PARMESHWAR BANSI

NG001047 WAGHMARE SANDIP SAMADHAN
DEPUTY CHIEF EXECUTIVE OFFICER/BLOCK DEVELOPMENT OFFICER, GROUP-A 
PN004190 PATIL ANUP SHASHIKANT

PN003173 PAWAR KESHAV PATILBA

PN004154 KHINDE SHEETAL RAM

AU001207 MAHER BHARAT SAJAN

PN001264 Hemant Pralhad Bhingardeve

PN003151 SUKRE AKSHAY JEJERAO
ASSISTANT DIRECTOR, MAHARASHTRA FINANCE AND ACCOUNT SERVICE, GROUP-A 
PN004174 KHEMNAR NIKHIL JIJARAM
You will find here that we had advertisement for 8 posts but the recommended only 1 candidate.
DEPUTY DIRECTOR OF INDUSTRIES (TECHNICAL), GROUP-A 
PN001050 Ingle Amol Uttamrao

PN002206 Jadhav Deepak Balasaheb
here they have made mistake of showing only 1 recommended candidate but they have recommended the 2 candidates
TAHSILDAR, GROUP-A 
PN002349 DESHPANDE DIKSHANT DILEEP

PN001195 GAIKWAD SAMADHAN BHASKAR

PN004277 Jadhav Sharda Balasaheb

PN003226 SHEVALE PRADEEP ABASAHEB

PN002048 PAWAR VAIBHAV DAULAT

PN002372 KAYPALWAD SUPRIYA TANAJI
DEPUTY EDUCATION OFFICER, MAHARASHTRA EDUCATION SERVICE, GROUP-B (ADMINISTRATION BRANCH) 
AU001032 Holkar Uddhav Sheku

PN001194 DAREKAR AKASH DIPAK

PN004074 Kharat Ajinkya Appa

PN002244 CHORAMALE KAILAS DINKAR

PN001122 GOPHANE PRAMOD RAMCHANDRA

PN004294 SHINDE AMOL SADASHIV

PN004155 MOHITE AMAR MANSING

AU001024 JAGDISH SANDUAPPA BHARKAR

PN001408 SHINDE PRERANA AVINASH

PN004116 NANGRE POOJA SANJAY

MB001097 BANDGAR SHITAL AMBANNA

PN003166 KALE ASAWARI HARISHCHANDRA

PN001078 Kamble Nivas Yallappa

PN001108 Ravindra Shivaji More

NG001042 DONGARE VISHAL SHRAVAN

PN001023 katkar snehal ashok

MB001050 KASARE GANESH BHIVAJI

PN001334 NETAKE NITIN VASANT

PN001389 Pawar Abhijeet Suresh

PN003078 GIRI AISHWARYA ANAND

PN001460 DHINGANE PUNAM SURESH

PN004112 Waydande Shraddha Dilip

PN002361 Vasave Shirish Govind

PN002125 Gaikwad Abhay Arjun

PN002269 Kanse Ankita Kailas
ASSISTANT REGIONAL TRANSPORT OFFICER, GROUP-B 
PN001188 NAVADE PAVAN UMAKANT

PN001303 NALAWADE PRASAD SHIVADAS

PN002278 Bangale Eknath Dattatray

AU001100 TATU YOGESH NARAYAN
SECTION OFFICER, GROUP-B 
PN004207 DONGARE SHIVRAJ SHAHAJI

PN002347 PATIL SHIRISH SARJERAO

PN001210 Belekar Suraj Suresh

PN001357 GAMBARE VIKAS LAXMAN

PN004141 GORE ANANDA JANARDHAN

PN004384 SWAMI PRASAD SANJAY

PN001033 Jadhav Mahesh Sarala

PN001327 AJAY RAJENDRA PATANKAR

PN002242 Patil Yogesh Rajaram

PN002147 PAWAR SAURABH NARENDRA

PN003047 DOUND RAMDAS VISHNU

NG001124 PALASKAR NILESH SUDHAKAR

PN003017 KADAM POONAM MOHAN

PN003096 Bankar Rohini Dnyandeo

PN002294 PAWAR BHAGIRATHI BHARAT

PN004283 LONDHE ANUJA SHAM

PN004303 BISEN CHITRA RAVINDRA

PN004403 MUKDADWAR SAIPRASAD DATTAGOUD

PN003125 GUTTE JYOTI ASHOKRAO

PN002015 chaudhari ram sudhakar

PN003056 MOHANDAS TRAMBAK BHUSARE

PN001039 ASHISH VASANT ATRAM

PN001280 chaudhari virendra shrihari

AU001033 BHOYE SAHEBRAO DHANRAJ

PN002500 ATRAM SAMRUDHI MANOHAR

PN002225 KATENGE MRUNALI RAMSURAM
ASSISTANT BLOCK DEVELOPMENT OFFICER, GROUP-B 
PN001282 MUNDE AMITKUMAR DNYANESHWAR

PN004367 KALASE MAYUR RAJESH

PN002426 KADAM RAJESH VILAS

PN002282 MUNDKAR GAJANAN MAROTIRAO

PN004289 KADAM YOGESH VILAS

PN004011 KSHIRSAGAR VISHAL SURESH

PN004091 Sable Machchhindra Appasaheb

PN002452 Chemate Abhijeet Bhausaheb

PN004125 Patil Pratap Gajanan

PN002352 YADAV VRUKSHALI DADASO

PN002409 BHUTE PRATIKSHA POPATRAO

MB001057 KARNE PRACHI VINAYAK

PN001328 AWALE TEJASHREE CHANDRAKANT

PN003120 LOKHANDE PRAFULLA PRABHAKAR

PN002281 VHANKHANDE BHIMRAO BASAVRAJ

PN004026 MUPADE MAROTI GANGADHAR
DEPUTY SUPERINTENDENT OF LAND RECORDS, GROUP-B 
PN002144 Patil Aniruddha Mukund
DEPUTY SUPERINTENDENT OF STATE EXCISE, GROUP-B 
PN004021 CHAVAN PRASANNAJIT PRAKASH

PN003129 INGLE RUSHIKESH ANANTRAO
ASSISTANT COMMISSIONER OF STATE EXCISE, GROUP-B 
PN002358 LAWAND AABASO SHRIKANT
ASSTT. PROJECT OFFICER/STAT. OFFICER/ ADMIN. OFFICER/ RESEARCH OFFICER/ HOUSE MASTER / REGISTRAR, GROUP-B 
PN003196 NARSALE AMAR TANAJI

PN001249 GHANWAT PRIYANKA SUNIL

MB001173 patil koushalyarani suryakant

PN004085 AUCHARE AJINKYA JAGDISH

PN004346 VASAVE SUHAS DHARAMSING
You can Read Full MPSC Result in Details(Download) : MPSC Result 2018
i found that there is allocation of of 129 Posts in the Result. i found that we had 8 posts in the Advertisement for Assistant Director, MF&AS, Group- A post but they have recommended only 1 Candidate as well as We had 2 posts in Advertisement  for Deputy Director of Industries(Technical), Group-A but they have shown that they have recommended only 1 Candidate but they have actually recommended 2 its might be mistake. As i know that these posts are different and eligibility is also specific degree/Diploma. so, you can also understand the what are the possibly reasons of deducting 7 posts in final result. i wont tell you reason even though i know because i haven't seen the complete details of all mains candidate and their education qualification, category etc. probably i wont read it in future too… so, be happy and you have that type of eligibility criteria then find the reasons or do contact will discuss. Thanks.