Welcome to MPSC Material Website. Today We have Great News About MPSC Group C Advertisement 2019. but this time posts are less than the previous years. and this time we have seen the time delay of advertisement. So, Previous Years there were 862 posts but this year there are only 234 posts the cut off of Tax Assistant and Clerk Typist will go high. but there are same posts of Excise Inspector so cut off will be equivalent to the previous year or somewhat same. so, the details of all exam is given below so read it care fully.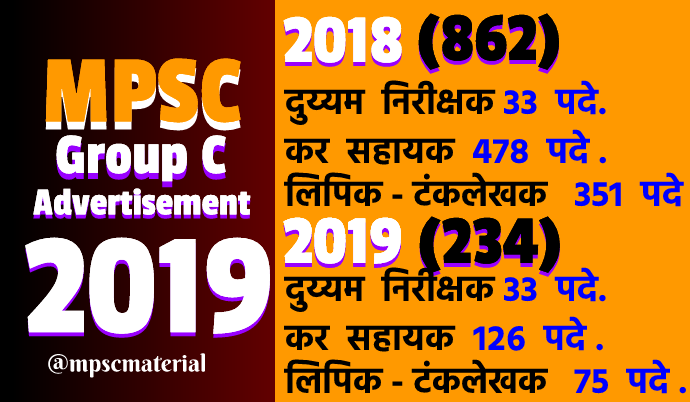 Here is the details about Last Date of Application:
Start Date To Apply for MPSC Group C : 16 April 2019
Last Date To Apply for MPSC Group C : 06 May 2019
mpsc group c exam dates 2019 :
MPSC Combine Class 3 Prelim Date : 16 June 2019.
MPSC Combine Class 3 Mains Paper 1 Date : 06 October 2019
MPSC Clerk Typist Paper 2 Date : 13 October 2019
mpsc excise sub inspector Paper 2 Date : 20 October 2019
MPSC Tax Assistant Paper 2 Date : 3 November 2019
How to Apply for MPSC Combine Class 3 Exam ?
Website Link : MPSC Online Application System
If you don't know the MPSC online Application Process then read basic from below :
Post Link : MPSC Online
Here is the Advertisement of MPSC Class 3 Exams : Maharashtra Group-C Services Preliminary Examination 2019
you may find this helpful…
If you have any problem then feel free to contact us @Facebook @Instagram etc
Facebook : MPSC Material
Instagram : MPSC Material