Welcome to the MPSC Material Website. Today in this post we will discuss MPSC exam answer sheet.
You must know that almost all MPSC exams are of Objective types in nature. means, you don't need to write the answers in the answer sheet. But there are one-two papers in the different exams which are descriptive in nature for eg. Rajyaseva Mains Paper 1, JMFC Mains exam(All), etc.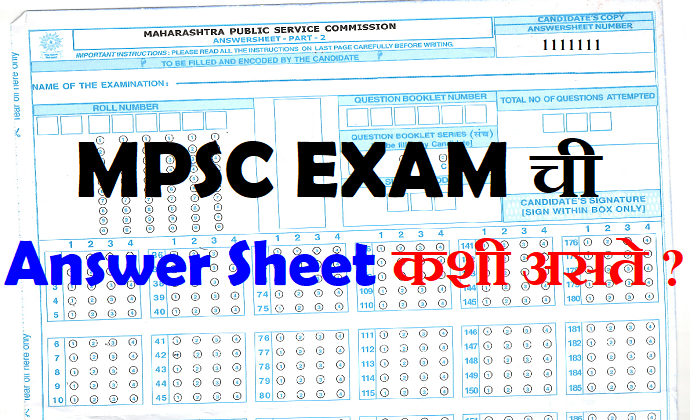 Overall all exams are of Objective Types in nature. This means you have to only fill the circles in the answer sheet. And that answer sheet is called the OMR sheet.
So, here I will explain each and every detail of the OMR sheet.

Note :
This is the original OMR answer sheet. Its part 2 (means you can bring it with you in your home after the exam).
This may change in the future but the format will be the same. See, that bar code can change in the future because i have heard from MPSC officials(Chairman) that they may try new security feature called QR Code. and you know what is QR code.
Let's understand each and every detail:
Header part :
NAME OF THE EXAMINATION : here you have to write the name of the examination which you are attending. Official exam name will be in your hall ticket. You can write the exam name in English or Marathi.
ROLL NUMBER : here first write the roll number from your hall ticket as it is. First two boxes are of district code. And everything will be available on hall ticket. While filling the circles make sure that first see the serial number. Check where is 0 and where is 1. Then fill circles carefully.
QUESTION BOOKLET NUMBER :here you have to write the question booklet number from given question paper. This will be on your questions paper.
QUESTION BOOKLET SERIES : here you have to enter the set number of question paper. It might be A , B , C or D. check carefully and enter it and fill the respected circle.
SUBJECT CODE : this subject will be on your hall ticket itself. So, make sure to enter the correct subject code from your hall ticket.
TOTAL NO OF QUESTIONS ATTEMPTED : this is the last exercise you have to do before submitting the answer sheet. They will give you 1-2 minutes extra for this exercise.
CANDIDATES SIGNATURE [ SIGN WITHIN BOX ONLY] : here you have to do your signature. Make sure that you do that signature which you have uploaded on MPSC Profile and will be available on hall ticket.
QUESTIONS FROM 1 to 200 :
There is space to fill the answers to 200 questions. There are different exams in MPSC where the questions are not the same for each exam paper. Depending on your exam you have to solve it. You may have 100 questions in your exam.

For eg. Rajyaseva Prelim Paper 1 (100 Questions), Rajyaseva Prelim Paper 2 (80 Questions), Rajyaseva Mains Exam GS papers (150 Questions), or you may have 200 questions so, it depends on the exam you are appearing.

Do not make crosses on the remaining parts. It's not empty space to cross and your OMR sheet will be checked by a machine. So, fill the circles full and make sure that is dark. And you have to fill the all circles with a black ballpoint pen only.

Tip: at one time you can solve 5 questions and then you can fill the circles of that respected questions. Because each box is separated by 5 questions and it may help you. If you will try to solve more than 10 questions at a time then while filling the circles you can make mistakes. So filling fewer circles means fewer mistakes. Because we have a negative marking system in the MPSC exam.
Footer part :
[TO BE FILLED BY INVIGILATOR ONLY] QUESTION BOOKLET SERIES : this for your supervisor. You don't have to do anything here. You may fill the circle and write the code[not that bad] but don't do this. Supervisor will check your question paper and will write the same and will check your above set number too. so , it's good practice.
So, this is all about MPSC OMR Sheet. Make sure to fill in the details correctly otherwise you will get 0 marks if you make any big mistakes like entering the wrong SET, Wrong question set number.
ANSWER SHEET NUMBER: here you will see the answer sheet number which will be different for each one. And you have to write this number in your attendance which will be circulated while solving the paper. There you have entered the answer sheet number and your sign and may be question paper booklet number(but I don't know).
MPSC Answer Sheet Back Side
Note: Print it on A4 Size Paper and Probably in Color if you have a printer. otherwise print it in Black and White.
MPSC Negative Marking System :
Post Link : MPSC Negative Marking System Of All Exams
Do, Follow us on social media @mpscmaterial
and if you want see the mpsc rajyaseva mains exam answer sheet format then download it from below:
Link: MPSC Rajyaseva Mains Descriptive Paper 1 Answer Sheet
don't take seriously answers written in the answers sheet. It's the RTI of one of the candidates who might be unsuccessful because of low marks. thanks to him for sharing.