UPSC Questions Papers 2014

Welcome to the MPSC Material website. In this post, we will share the UPSC questions papers of 2014. In this UPSC questions papers 2014, will share the UPSC Prelim papers of 2014 along with UPSC Mains Optional Descriptive Papers. You may not get all UPSC Optional papers 2014 or UPSC Mains papers 2014. So, If you get it anywhere else then mail me at mpscmaterial@gmail.com
And, In the Following UPSC Questions Papers 2014 if you found something wrong with respect to any given link. Please comment on it. I will rectify it.
Below you will find the UPSC Prelim Question paper 2014 along with UPSC Prelim 2014 Answer Keys.
UPSC Prelim 2014 Papers
UPSC Prelim 2014 GS Paper 1 Final Key
UPSC Prelim 2014 CSAT Paper 2 X
UPSC Prelim 2014 CSAT Paper 2 Final Key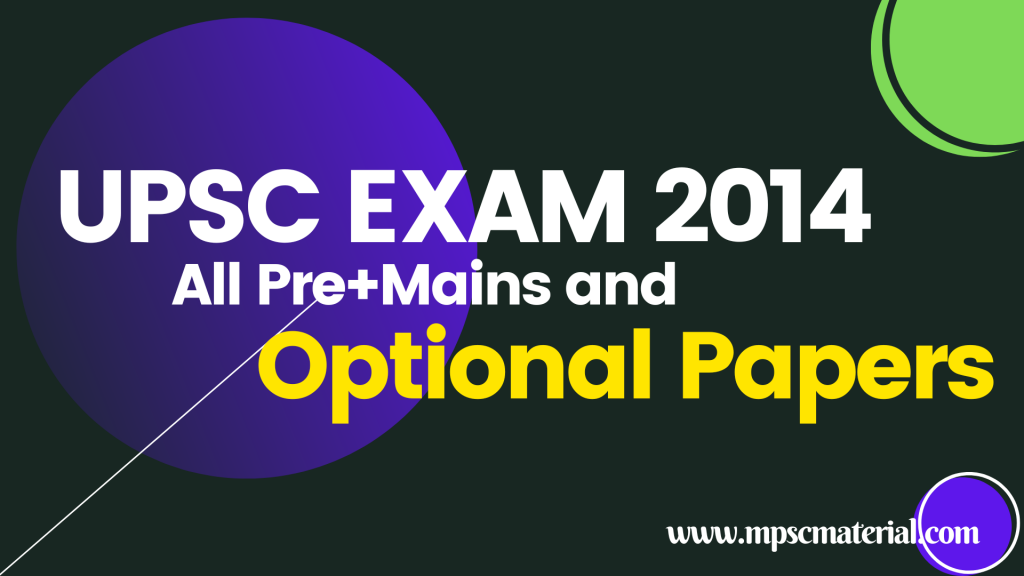 UPSC CSE Exam 2014 Questions Papers
Below you will find UPSC Mains papers 2014 and UPSC Optional papers 2014 of, Agriculture, Animal Husbandry and Veterinary Science, Anthropology, Botany, Chemistry, Civil Engineering, Commerce and Accountancy, Economics, Electrical Engineering, Geography, Geology, History, Law, Management, Mathematics, Mechanical Engineering, Medical Science, Philosophy, Physics, Political Science and International Relations, Psychology, Public Administration, Sociology, Statistics, Zoology and Marathi Literature.
UPSC CSE Mains 2014 Papers
UPSC Mains 2014 Langauge Paper 1 (Marathi)
UPSC Mains 2014 Langauge Paper 2 (English)
UPSC CSE Mains 2014 Papers
UPSC Optional Questions Papers
UPSC Mains 2014 Optional Agriculture
UPSC Mains 2014 Optional Agriculture Paper 1
UPSC Mains 2014 Optional Agriculture Paper 2
UPSC Mains 2014 Optional Animal Husbandry and Veterinary Science
UPSC Mains 2014 Optional AHVS Paper 1
UPSC Mains 2014 Optional AHVS Paper 2
UPSC Mains 2014 Optional Anthropology
UPSC Mains 2014 Optional Anthropology Paper 1
UPSC Mains 2014 Optional Anthropology Paper 2
UPSC Mains 2014 Optional Botany
UPSC Mains 2014 Optional Botany Paper 1
UPSC Mains 2014 Optional Botany Paper 2
UPSC Mains 2014 Optional Chemistry

UPSC Mains 2014 Optional Chemistry Paper 1
UPSC Mains 2014 Optional Chemistry Paper 2
UPSC Mains 2014 Optional Civil Engineering

UPSC Mains 2014 Optional Civil Engineering Paper 1
UPSC Mains 2014 Optional Civil Engineering Paper 2
UPSC Mains 2014 Optional Commerce and Accountancy
UPSC Mains 2014 Optional Commerce and Accountancy Paper 1
UPSC Mains 2014 Optional Commerce and Accountancy Paper 2
UPSC Mains 2014 Optional Economics

UPSC Mains 2014 Optional Economics Paper 1
UPSC Mains 2014 Optional Economics Paper 2
UPSC Mains 2014 Optional Electrical Engineering
UPSC Mains 2014 Optional Electrical Engineering Paper 1
UPSC Mains 2014 Optional Electrical Engineering Paper 2
UPSC Mains 2014 Optional Geography
UPSC Mains 2014 Optional Geography Paper 1
UPSC Mains 2014 Optional Geography Paper 2
UPSC Mains 2014 Optional Geology
UPSC Mains 2014 Optional Geology Paper 1
UPSC Mains 2014 Optional Geology Paper 2
UPSC Mains 2014 Optional History
UPSC Mains 2014 Optional History Paper 1
UPSC Mains 2014 Optional History Paper 2
UPSC Mains 2014 Optional Law
UPSC Mains 2014 Optional Law Paper 1
UPSC Mains 2014 Optional Law Paper 2
UPSC Mains 2014 Optional Management
UPSC Mains 2014 Optional Management Paper 1
UPSC Mains 2014 Optional Management Paper 2
UPSC Mains 2014 Optional Mathematics
UPSC Mains 2014 Optional Mathematics Paper 1
UPSC Mains 2014 Optional Mathematics Paper 2
UPSC Mains 2014 Optional Mechanical Engineering
UPSC Mains 2014 Optional Mechanical Engineering Paper 1
UPSC Mains 2014 Optional Mechanical Engineering Paper 2
UPSC Mains 2014 Optional Medical Science
UPSC Mains 2014 Optional Medical Science Paper 1
UPSC Mains 2014 Optional Medical Science Paper 2
UPSC Mains 2014 Optional Philosophy
UPSC Mains 2014 Optional Philosophy Paper 1
UPSC Mains 2014 Optional Philosophy Paper 2
UPSC Mains 2014 Optional Physics
UPSC Mains 2014 Optional Physics Paper 1
UPSC Mains 2014 Optional Physics Paper 2
UPSC Mains 2014 Optional Political Science and International Relations
UPSC Mains 2014 Optional PSIR Paper 1
UPSC Mains 2014 Optional PSIR Paper 2
UPSC Mains 2014 Optional Psychology
UPSC Mains 2014 Optional Psychology Paper 1
UPSC Mains 2014 Optional Psychology Paper 2
UPSC Mains 2014 Optional Public Administration
UPSC Mains 2014 Optional Public Administration Paper 1
UPSC Mains 2014 Optional Public Administration Paper 2
UPSC Mains 2014 Optional Sociology
UPSC Mains 2014 Optional Sociology Paper 1
UPSC Mains 2014 Optional Sociology Paper 2
UPSC Mains 2014 Optional Statistics
UPSC Mains 2014 Optional Statistics Paper 1
UPSC Mains 2014 Optional Statistics Paper 2
UPSC Mains 2014 Optional Zoology
UPSC Mains 2014 Optional Zoology Paper 1
UPSC Mains 2014 Optional Zoology Paper 2
UPSC Mains 2014 Optional Marathi Literature
UPSC Mains 2014 Optional Marathi Literature Paper 1