Welcome to MPSC Material Website. In this post we will see MPSC Agriculture Services Prelim Book List. This is standard book list you may use it for your preparation.
Lets get started,
महाराष्ट्र कृषी सेवा पूर्व परीक्षा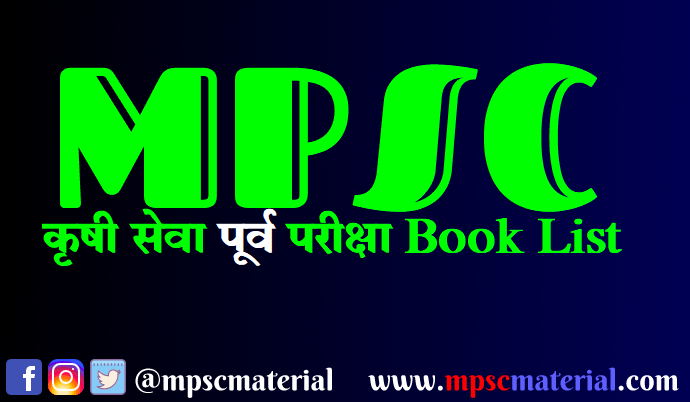 MPSC Agriculture Services Preliminary Exam Book List
Marathi (15 Questions-30 Marks)
परिपूर्ण मराठी व्याकरण – बाळासाहेब शिंदे [Buy Online]
OR
सुगम मराठी व्याकरण व लेखन [3 books] by Mo. Ra. Walimbe [Buy Online]
English(15 Questions-30 Marks)
संपूर्ण इंग्रजी व्याकरण – बाळासाहेब शिंदे. [Buy Online]
OR
High School English Grammar and Composition Book by Wren & Martin [Buy Online]
Key to Wren & Martin's Regular & Multicolour Edition of High School English Grammar & Composition [Buy Online]
General Studies (45 Questions – 90 Marks)
You can Refer Subordinate Services Book List(Class 2) [Wait… we are adding soon..]
Or
Tatyanchya thokla with respect to syllabus [Buy Online]
Current Affairs Magazine : One Good Current Affairs Magazine and Newspapers (Loksatta/ Maharashtra Times)
Computer :  No Need
OR
SANGNAK VA MAHITI TANTRADNYAN by CA. ABHIJEET N. BOBADE [Buy Online]
Agriculture (25 Questions- 50 Marks)
No Need
OR
11th & 12th Standard Crop Science Books
So, This is overall book list for MPSC Agriculture Services Prelim Exam , so you may add one/more or delete one/more or suggest me to add more books.
will add mains book list as well. will ask some one who is graduated in this steams.